Contact us: +61 8 8226 8800
Start of main content.
Aboriginal Disability Services Officers - November Information Session
2021-11-15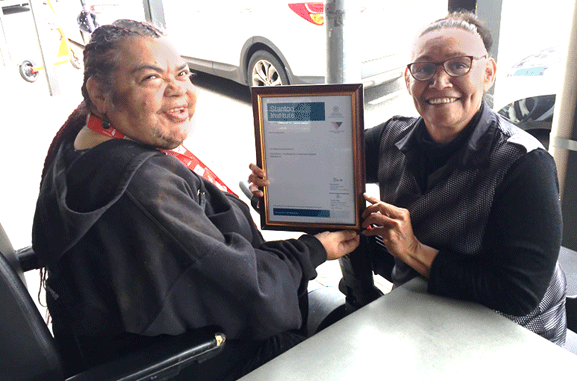 The Department of Human Services (DHS) is seeking Aboriginal and Torres Strait Islander applicants for Disability Services Officer roles in Accommodation Services.
Photo: Claudette (left) presents Disability Services Officer Michelle with her Certificate III in Individual Support (Disability).
Accommodation Services is one of the largest providers of Supported Independent Living in South Australia. We support people living with disability to live as independently as possible by supervising and helping with everyday tasks.
Disability Services Officers support people with disability in all aspects of daily living, including:
community inclusion
personal care / grooming
building and maintaining independence
interpersonal relationships
Permanent and casual positions are available for Aboriginal people who are interested in making a positive difference in the lives of Aboriginal people living with disability.
DHS provides new staff members with all required training, through on-the-job learning as well as an accredited traineeship program.
Locations
Positions are available:
across Adelaide suburbs
Kadina
Mount Gambier.
We also have an Aboriginal-specific service located in the western suburbs of Adelaide.
Prerequisites
Applicants must have:
a South Australian Driver's License (C class), and
a National Police Check issued in the last six months, at the time of commencing employment with DHS.
Free information session
Join our friendly Accommodation Services team to learn more about the opportunities available to you.
Thursday 25 November 2021
from 12:30 to 2:30pm
at Tauondi Aboriginal College, 1 Lipson Street, Port Adelaide
RSVP and enquiries
If you would like to register to participate in the information session or you have questions about employment opportunities, please email: dhsdisabilityservicesofficer@sa.gov.au
About Accommodation Services
Accommodation Services is a high quality, rights-based, person-centred service with an approach of 'everything about you, with you'.
The service offers supported accommodation and lifestyle support to people eligible for a range of disability and aged care funding packages, including the NDIS.
Page last updated : 16 Nov 2021