Contact us: +61 8 8226 8800
Start of main content.
Christine's story – overcoming the depths of gambling harm
2021-11-12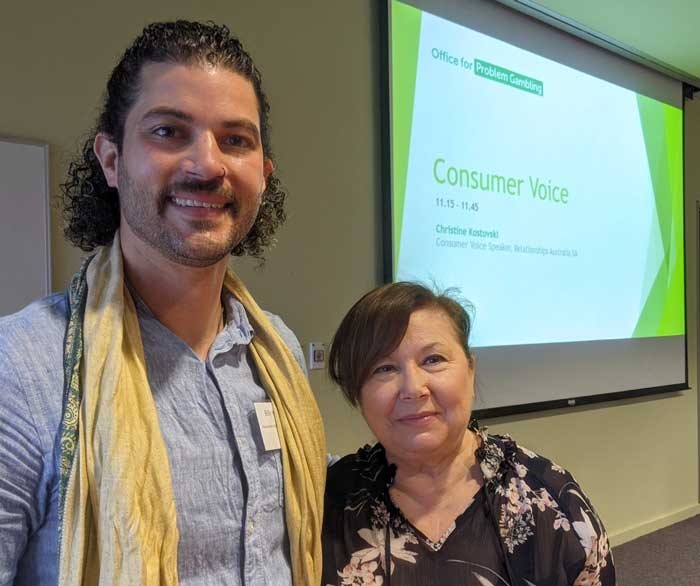 Meet Christine. She often gambled her whole wage away.
Now she shares her journey to highlight the slippery slope into risky gambling, the challenges people face, and how she keeps herself focused.
For Christine, bullying and verbal abuse from some of those closest to her as a child impacted her deeply, she struggled with stuttering, teasing, insecurity and loneliness.
As she grew up, Christine continued to face challenges, a failed marriage and then another with Christine saying her husband, "turned out to be a conman, drug addict and gambler, resulting in my couch surfing for two years."
"I tried to cope with my stress and anxiety, but I ended up having a heart attack and then open-heart surgery."
Thankful for a re-connection with a friend who would play the pokies, she says "I couldn't understand why she would waste her money."
"Eventually I started putting dollar coins in the machines myself – it was a place to run away and help me forget everything.
"I would go there to be by myself, get lost in the lights, the music. I wouldn't have to think about anything. There was always a coffee, a drink, food to eat."
Pictured: Christine (who addressed industry stakeholders during the Office for Problem Gambling's Community of Practice – 10 November 2021) with Billy Kriaris (Coordinator, Consumer Voice Program Relationships Australia SA Gambling Help & Lived Experience in Gambling Program)
"I felt so ashamed"
Christine admits, she could no longer control it. While telling herself she wouldn't go again, she would then find herself sitting at a machine. She felt so ashamed.
"I wouldn't have money for medications and important needs. I would get loans from my jewellery and other items. My younger daughter had to help me out," says Christine.
"I felt so ashamed, I was worthless, I was full of guilt and I felt like a bad mother. I had let my daughter down and myself down."
Steps to a better life
Rock-bottom, Christine's steps to a better lifestyle started in 2013 when she caught up with that old gambling friend. She was different. She said she was seeing a counsellor at Relationships Australia SA.
"One day, when I was feeling stronger, I made that call," says Christine. "This time I felt different. What my counsellor said to me made sense. As hard as it was to bury it all and it drained my emotions, I kept going.
"I started feeling stronger and better about myself. Don't think I was cured straight away. I did have many relapses, believe me," says Christine.
Her counsellor told her about the meaning of being kind to herself, her self-worth and that recovery is a process. Together, with the introduction to a peer worker, Christine progressed further.
"My peer worker helped me get in touch with the (former) Independent Gambling Authority and I had myself barred from several venues." Now, Consumer Business Services is responsible for helping individuals to bar themselves from licenced venues.
Making a difference in the lives of people struggling with their gambling
Her work with Consumer Voice helped process the journey and keep her on track as she now shares her story with industry and community groups to improve understanding and awareness while addressing causes of stigma that can pose a barrier to getting help. Christine is deeply motivated to make a difference in the lives of those people struggling with their gambling. Sharing her story helps her to remind others – there is hope and change is always possible.
Help is available
Phone the Gambling Helpline on 1800 858 858
Visit the Gambling Help Online website
Page last updated : 12 Nov 2021