Contact us: +61 8 8226 8800
Start of main content.
Domestic Violence Disclosure Scheme records milestone
2021-11-05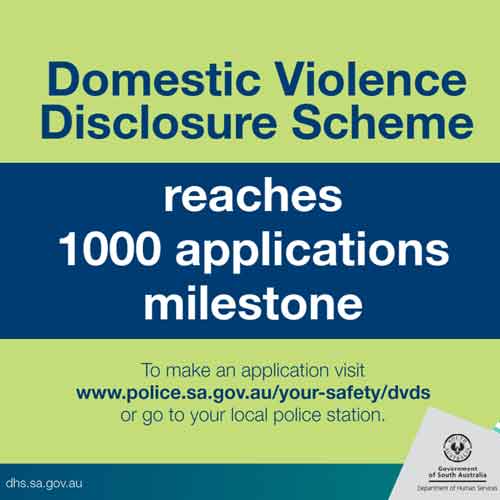 South Australia's potentially life-saving Domestic Violence Disclosure Scheme (DVDS) has reached a new milestone, with more than 1,000 people seeking information on their current or former partner's criminal history to help them make informed choices about their safety.
Launched in October 2018 as a trial, the scheme has become on ongoing tool to support at-risk South Australian women and their children and it has been backed by $500,000 per year in the latest State Budget. Since its launch three years ago, 98 per cent of the 1,005 applications to the scheme have been recorded by women, with more than 360 meetings being held with police and a specialist domestic and family violence support worker to discuss their safety.
About the Domestic Violence Disclosure Scheme
The free and confidential online application can help people at risk find out if their partner has a history of violent offending, or other relevant information such as previous intervention orders.
If a relationship doesn't feel quite right — perhaps a partner who is tracking movements, restricting access to certain family or friends, or is quick to anger — red flags like this can be a reason to make an application.
Even if there is no information to disclose, a person feeling at risk is still connected directly with specialist domestic violence support, providing the practical and emotional help required to make an informed safety plan.
Nearly 63 per cent of South Australians who accessed the scheme hadn't been connected with a domestic violence service before — it means women at risk who otherwise may not have sought help have access to specialist services to support their safety.
Early intervention is crucial in changing the story for those at risk of experiencing abuse, and the domestic violence disclosure scheme aims to do exactly that.
Domestic Violence Disclosure Scheme fast facts
Of the 1005 applications received up to end of September 2021:
98 per cent were from women
66 per cent were from women with children in their care
39 per cent of the applications were received from regional areas
61 per cent were recorded within the South Australian metropolitan area
66.3 per cent were submitted by the person at risk
33.7 per cent were submitted by a third-party applicant
62.9 per cent of persons at risk have never been connected to a specialised domestic and family violence service.
More information or make an application under the scheme
Visit the Domestic Violence Disclosure Scheme website or go to your local police station.
Phone numbers to call
If life is in danger, phone 000 (triple zero)
1800RESPECT (National 24/7 helpline): Phone 1800 737 732
SA Domestic Violence Crisis Line: Phone 1800 800 098
Men's Referral Service: Phone 1300 766 491
Page last updated : 05 Nov 2021