Contact us: +61 8 8226 8800
Start of main content.
Domestic Violence program offers support for Aboriginal women and children sleeping rough
2021-11-19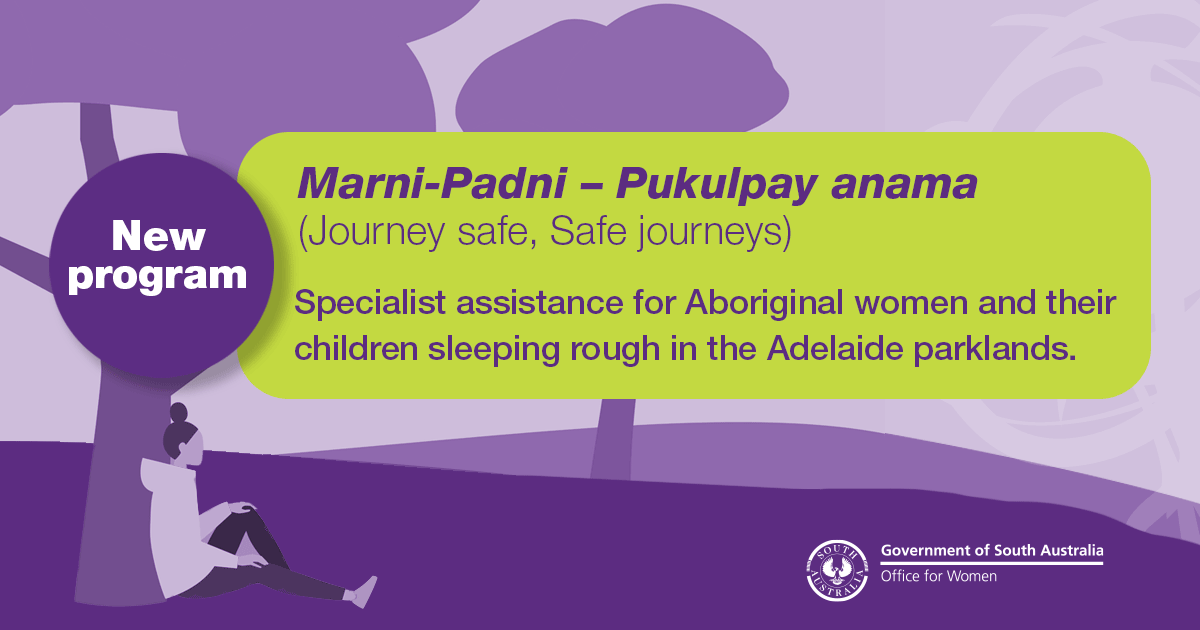 A South Australian domestic violence program launched earlier this year has helped more than 80 Aboriginal women, their children and partners to make the journey from sleeping rough in the Adelaide CBD back to a home where they can feel safe with family and community.
The Marni-Padni – Pukulpay anama pilot program, which means Journey Safe – Safe Journey in Kaurna and Pitjantjatjara languages, has allowed Aboriginal women to surmount the barriers that left them stranded in the Adelaide parklands with limited or no options to travel home.
85 people supported since July
Since 1 July 2021, the program has supported a total of 85 people — 55 women, 21 children and 9 men. 71 have safely returned to Country and 14 were supported with plans and funding to make the journey home or supported with case management to stay and make a safe home in Adelaide.
The people come from, and are supported to return to, a range of locations including:
Northern Territory
the APY Lands
Western Australia
Eyre and Western South Australia, and
other South Australian locations.
Delivered by Baptist Care, the program uses Aboriginal-specific case management and a brokerage model to fund the costs associated with travel home.
Support provided by the program
Some of the support provided by the program includes:
funding to cover the cost of bus travel or flights, including excess baggage
funding to cover transfers to and from airports
food vouchers and weather-appropriate clothing for before and after the journey
help to obtain the photo ID necessary to make travel bookings
support to undertake COVID-19 testing before travel.
Operations to continue until the end of 2021
Since October, Safe Journeys staff have been a regular presence at Puti on Kaurna Yerta, the State Government's temporary Safety and Wellbeing Taskforce hub in the Adelaide Parklands.
The Safe Journeys program, which received $300,000 funding through the National Partnership on COVID-19 Domestic and Family Violence Responses, will continue to operate until at least 31 December 2021.
Page last updated : 16 Jan 2022