Contact us: +61 8 8226 8800
Start of main content.
Honouring South Australia's pioneering women
2021-11-18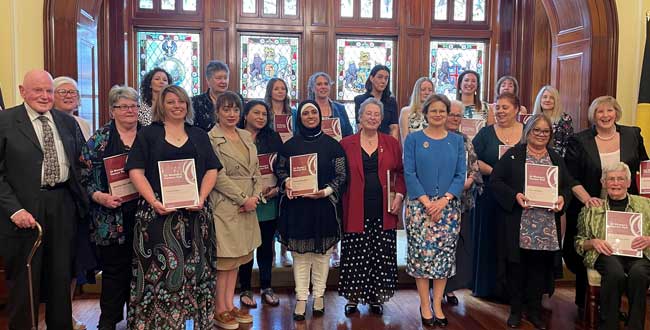 A fierce child protection advocate, a champion for women from culturally and linguistically diverse backgrounds, and a domestic violence leader were among 19 pioneering South Australian women who were inducted into the prestigious SA Women's Honour Roll on Wednesday, 17 November 2021.
Held every two years, the Honour Roll acknowledges and celebrates the diversity of women in our community and their commitment to effecting change.
On Wednesday, these remarkable women were recognised at a reception at Government House, hosted by the Honourable Frances Adamson AC, Governor of South Australia, for going above and beyond in their exceptional contributions to our state's community as leaders, inspiring role models and champions of change.
The diverse work and volunteering efforts of the inductees have made rich and important contributions to our society, all the while inspiring the next generation of women leaders in South Australia.
Their work also reflects the many South Australian women actively involved in making a difference in our community in everything from medicine, to child protection, domestic violence and the arts.
Links to Women's Leadership and Economic Security Strategy
This year's honour roll follows the launch of the new Women's Leadership and Economic Security Strategy 2021–24 that was developed by the Office for Women at DHS.
The new strategy has a strong focus on increasing recognition and visibility of female leaders and role models as an important step in achieving gender equality. It will help support South Australian women and young girls thrive now and into the future.
Eligible women included in the SA Women's Honour Roll are nominated for the Australian of the Year Awards each year to provide national recognition for the contribution they make to the community.
For more information on the full list of women honoured, please visit the Office for Women website.
2021 Women's Honour Roll inductees
The 2021 Women's Honour Roll inductees are:
Shazia Choudhry - A champion for women from CALD and Muslim backgrounds.
Maureen Christie - Environmental champion and community educator.
Rikki Cooke - Foster carer, social worker, single mum and CEO and founder of Treasure Boxes.
Georgia Davies-Thain - Campaigner for sex worker rights.
Sabrina Davis - Humans of Kangaroo Island founder and community fundraiser.
Estela Fuentes - Building wellbeing and resilience in the Spanish speaking community.
Alison Hams - Acclaimed country musician and dedicated philanthropist.
Genevieve Handley - Health activist for people with cystic fibrosis.
Dr Annie Hensley MBE (1901–1989) - Pioneering doctor in the treatment of diphtheria.
Vicki Holmes – Tireless advocate and leader for healthy Aboriginal communities.
Dorothy Hunt MBE (1900–1985) - Steadfast community member and founder of the Bordertown CWA.
Dr Christine Kirby - Pioneering female gynaecologist and trailblazer in In Vitro Fertilisation.
Genéne Kleppe - Dedicated advocate for women in STEM.
Kathy Lilis - Champion of the domestic and family violence sector.
Vida Maney OAM - Committed leader and volunteer in the Mundulla community.
Caroline (Carol) Murray (1916–1988) - Bordertown community leader and namesake of the local kindergarten.
Dr Pamela Schulz OAM - Mentoring women leaders and supporting veterans.
Dinah Thomasset-Hearn - Founder of Villagehood Australia, supporting women to value themselves as mothers.
Belinda Valentine - Advocate for vulnerable children and safer and stronger families.
Page last updated : 18 Nov 2021