Contact us: +61 8 8226 8800
Start of main content.
Tuntun Polar Celebration Concert
2021-12-13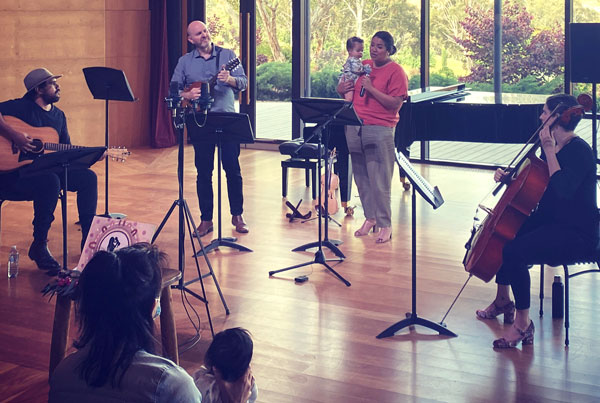 Tuntun Polar, 'Sleeping Child' in the Ngarrindjeri language, has held its end of year celebration concert with a musical performance at the stunning Ukaria Cultural Centre in Mount Barker.
A dozen unique lullabies written by biological and foster parents of Aboriginal children were beautifully performed on stage alongside Indigenous and non-Indigenous musicians who also assisted families with the song-writing process during the two Tuntun Polar workshops held in 2021 at the Willow Children's Centre.
Inspired by the success of Lullaby Project Australia in South Australia with birth mothers and infants in 2019, their pilot Tuntun Polar was developed as a unique project with the purpose of providing guidance and support to foster carers that valued the importance of connecting their child to their Aboriginal culture and honouring their identity.
Built in collaboration with The Willow Children's Centre and Child and Family Health Services, and in consultation with Cultural Lead, Senior Peramangk Woman, Mandy Brown, the project harnesses the innate power of music to strengthen cultural connection, enhance wellbeing and build strong community support networks.
The two group lullabies recorded during the concert will be shared with other Aboriginal children in foster care to encourage their pride and connection with their cultural identity.
Page last updated : 13 Dec 2021