Contact us: +61 8 8226 8800
Start of main content.
Working to prevent gambling harm in SA
2021-11-12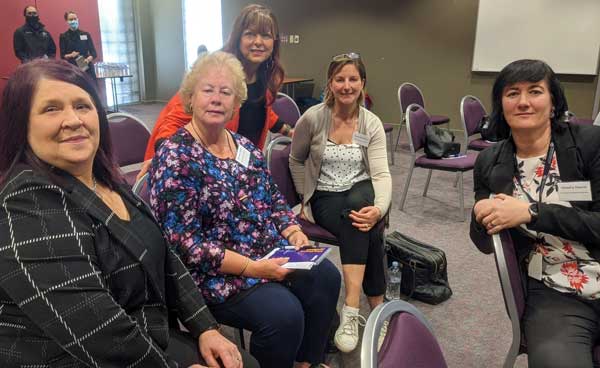 Earlier intervention and prevention of gambling harm in South Australia has been the focus of a forum bringing together the state's funded gambling help services, industry bodies, the gambling regulator and researchers.
The regular Community of Practice session, most recently held on 10 November 2021 by the DHS Office for Problem Gambling, updates key stakeholders in the SA gambling environment about efforts to minimise gambling harm.
Recent amendments to the Gaming Machine Act 1992 and an increase in the State Government's contribution of $1 million a year into the Gamblers Rehabilitation Fund (GRF) allow for an increased focus on preventing gambling harm. This is in addition to treating gambling addiction and risky behaviours.
Pictured L-R: Giselle Berriman of Club Safe (Clubs SA), Bronwyn Martin and Sonia Dickeson of Lifeline SE, Ennam Oudih from Peace Multicultural (above) and Natasha Neame representing Regulatory Services.
Attendees at the event heard about efforts to tackle the growth in sports betting, links between gaming and gambling as well as activity to break down the stigma associated with gambling in multicultural and Aboriginal communities.
Former risky gambler Christine shared her journey to give Consumer Voice to the session.
Participants also received valuable insight into some new survey results capturing South Australians' experiences and attitudes towards sports betting. The data coincided with a preview of a significant new initiative, being finalised for release soon.
More information
DHS is refreshing the Office for Problem Gambling website to deliver an accessible and engaging user experience that meets the needs of those affected by gambling and who just want to learn more about the issue. Keep an eye out for our exciting new look due towards the end of November 2021.
Page last updated : 12 Nov 2021