Contact us: +61 8 8226 8800
Start of main content.
New LGBTIQA+ Advisory Council poised for change
2022-11-10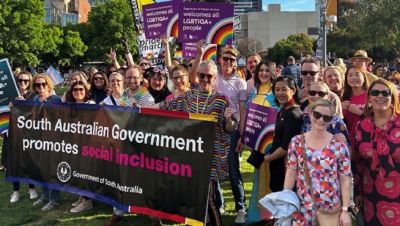 The State Government has announced its new 13-member LGBTIQA+ Advisory Council, coinciding with the annual queer LGBTIQA+ Pride March, which saw thousands of South Australians marching through the streets of Adelaide over the weekend.
As the Pride March celebrates LGBTIQA+ queer identity, culture and inclusiveness, the new LGBTIQA+ Advisory Council will seek to achieve true inclusion for members of the LGBTIQA+ community in South Australia.
The Council will be chaired by Minister for Human Services, The Hon Nat Cook, who joined members of the public service in this year's Pride March.
Members of the new LGBTIQA+ Advisory Council include:
Varo (Chair of the SA Rainbow Advocacy Alliance) and Brett McAloney (President of the Rainbow Crows), along with
Anna Moffat
Aston Hawkins-Nicholls
Desmond Ford
Jody Anderson
Lucy Hackworth
Lucy Solonsch
Megan Barnes
Michelle Hok
Olympia Balopitos
Sean Henschke
Steven Moran.
The LGBTIQA+ Advisory Council will support the Department of Human Services in its role as steward of LGBTIQA+ inclusion within the South Australian public sector as well as more broadly across the South Australian community.
The LGBTIQA+ Advisory Council is the second of three Ministerial Advisory Councils launched by the State Government to be formally announced. The new Disability Advisory Council was announced last week, while the Youth Advisory Council will be announced before the end of the year.
Page last updated : 10 Nov 2022