Contact us: +61 8 8226 8800
Start of main content.
Shed full of funding for SA community groups
2022-10-07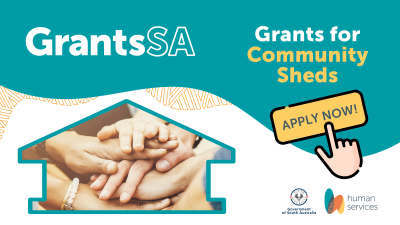 Here's some exiting news about how community sheds, often referred to as Men's or Women's Sheds, can get some extra funding!
Because the South Australian Government recognises that Community Sheds play an incredibly important role in reducing loneliness and improving mental health, we are putting $1.2m towards grants specifically just for Community Sheds.
Six community sheds have already received funding:
Men's Shed, Aberfoyle Community Centre - $40,000
Veterans' Shed, Willaston Black Ops - $250,000
Playford Women's Shed - $120,000
SASMEE (SA Society of Model and Experimental Engineers) Park Shed, Millswood - $151,000
Regency Community Men's Shed - $19,628
Roxby Community Shed - $300,000.
How much funding is available?
Funding of up to $25,000 is available for projects such as creating community gardens, purchasing tools and equipment, capital works and activities to boost participation.
All not-for-profit Community Sheds, or organisations providing shed-like activities, based in South Australia are eligible to apply.
Priority will be given to sheds in regional and remote areas, and from community sheds in disadvantaged communities and areas.
Applications for this grant round are open until 15 November 2022.
The full guidelines and application information are available on the Grants SA web page.
How can Sheds apply?
Step 1
If your Community Shed wants to make use of this funding opportunity, carefully read the full guidelines to understand the application requirements.
Step 2
Register and complete the online application form for funding via the SmartyGrants online portal.
Remember to:
provide all information requested, including quotes or evidence of costs for all budget items
address all eligibility and assessment criteria.
Deadline for applications
15 November 2022
Questions
Phone 1300 650 985
Email Grants SA@sa.gov.au.
Page last updated : 07 Oct 2022