Celebration of goodwill at state's volunteer awards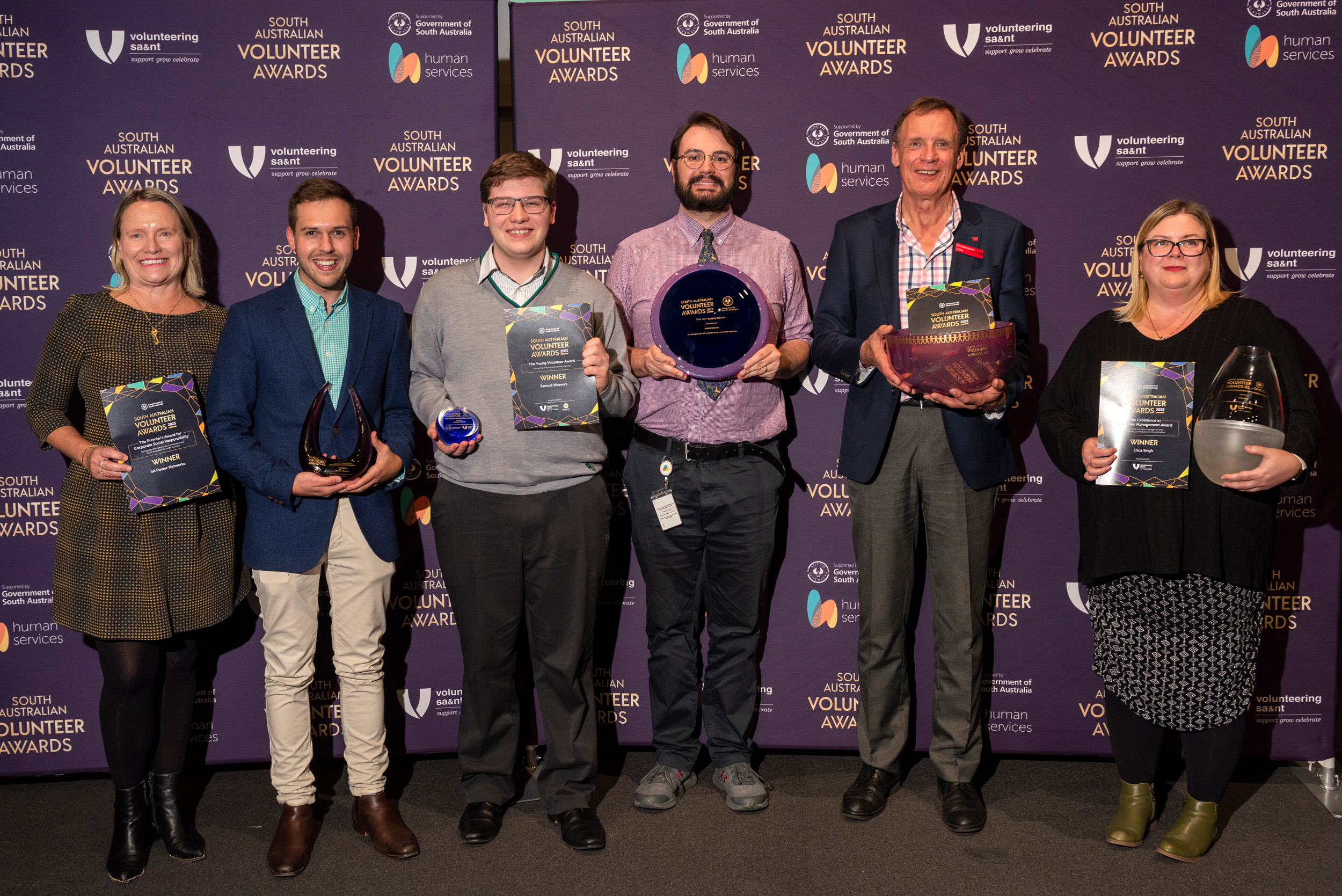 A mental health advocate, a collective of grandcarers, an SA energy powerhouse, a transformational team leader and a teenage entrepreneur raising funds for kids with cancer were celebrated for their outstanding volunteer efforts at the 2023 South Australian Volunteer Awards held on Monday 15 May.
Kicking off National Volunteer Week, volunteers and volunteer advocates gathered at the Braggs Lecture Theatre at the University of Adelaide to recognise the contribution of outstanding individuals, community groups, managers and businesses across the state.
This year a new category - The Young Volunteer Award - recognised the inspiring efforts of young people aged 12-25 in our community.
The event was hosted by popular radio presenter Ali Clarke, with Minister for Human Services Nat Cook and Assistant Minister to the Premier Emily Bourke MLC presenting the awards.
Established by the State Government in 2005, the 2023 South Australian Volunteer Awards was presented in partnership with Volunteering SA&NT and Young Volunteer Award partner, the Youth Affairs Council of SA (YACSA).
An independent judging panel chaired by the Department of Human Services assessed the nominations. Judges considered the nominee's achievements in relation to their commitment, level of service and how their work benefited the South Australian community.
Last year marked 20 years since South Australia officially proclaimed the Monday of the June long weekend to be Volunteers Day, a special day to honour volunteers, and the State Government is more committed than ever to supporting this vital sector.
Collectively, South Australian volunteers contribute an estimated 1.7 million hours of unpaid work each year. The value of that unpaid labour is estimated at almost $5 billion.
2023 South Australian Volunteer Award Winners
Read more about each of the 2023 award recipients
Joy Noble Medal
South Australia's highest distinction for an individual volunteer
Winner - Stella Braund, mental health and social justice advocate
The Young Volunteer Award
Recognising an impressive young volunteer
Winner - Samuel Weavers, founder of Sam's Popcorn and fundraiser for the Childhood Cancer Association
Presented in partnership with Volunteering SA&NT and the Youth Affairs Council of SA (YACSA)
'The Andamooka' Community Project Award
Recognising a community or group volunteer project of significant community benefit
Winner - Grandcarers SA Village Program, Grandcarers SA
The Excellence in Volunteer Management Award
Recognising a volunteer manager for their outstanding contribution to the profession
Winner - Erica Singh, Operations and Risk Manager at Community Care and Transport
Presented in partnership with Volunteering SA&NT.
The Premier's Award for Corporate Social Responsibility
Recognising the community contribution of a South Australian for-profit business
Winner - SA Power Networks