Contact us: +61 8 8226 8800
Start of main content.
How the SA Government is looking after asylum seekers
2022-08-19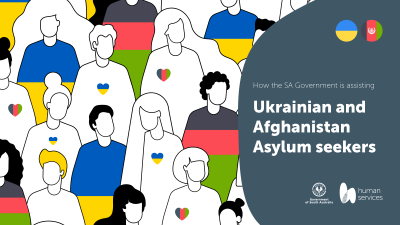 A $200,000 grant for trauma support and individual case management, including referrals to critical support services and programs, is just one of the ways that DHS has been helping new arrivals from Ukraine and Afghanistan these past few months. We are also leading the SA Government's support coordination efforts.
A comprehensive package for people seeking refuge
The grant funding to the Australian Refugee Association (ARA) is part of a comprehensive package for migrants seeking refuge in Australia that is aimed at ensuring new arrivals can access short-term accommodation, services and supports straight away, regardless of their visa status.
The support package includes
$300,000 to the Australian Migrant Resource Centre (AMRC) to continue general settlement support for new arrivals and migrants to South Australia (Department of the Premier and Cabinet)
$175,000 to the Association of Ukrainians in SA Inc. to employ a coordinator to support volunteers and the broader community (Department of the Premier and Cabinet)
$1.8 million worth of medical supplies to Australian Federation of Ukrainian organisations to be distributed to hospitals and humanitarian aid centres in Ukraine, facilitated by the South Australia chapter (Department for Health and Wellbeing)
Fee waiver for all public hospital costs (Department for Health and Wellbeing)
1800 332 443 Mental Health Support Line — a confidential trauma-informed counselling service, available 8.00 am to 8.00 pm every day, for anyone impacted by the unfolding conflict in Ukraine (Department for Health and Wellbeing)
Access to public housing for Ukrainian new arrivals, including a South Australian Housing Authority commitment to further leasing of 40 properties to settlement services provider AMES (SAHA)
Support to access private rental accommodation and special considerations for assistance (SAHA)
Job seeking services and support to build skills that will help gain employment (Dept of Education)
Cross-government contributions to welcome packs gifted to Ukrainian refugees through an initiative of The Advertiser Foundation
100 'Treasure Boxes' filled with toys, books, nappies and toiletries (DHS)
Translated information (English and Ukrainian) on relevant services (DHS)
Access to the Community Connections program to build stronger social and community connections (DHS)
Access to programs such as Financial Counselling, Emergency Financial Assistance, Gambling Help Services (DHS)
Roundtable discussions with key community organisations and government representatives to consolidate supports and identify what further assistance is needed for Ukrainian refugees to settle in South Australia (DHS).
Culturally specific wellbeing programs
According to Deb Stringer, CEO of the ARA, the $200,000 grant from DHS will help the ARA to work with the Afghan and Ukrainian communities to develop culturally specific wellbeing programs which address mental health and trauma.
"Humanitarian migrants (refugees) carry complex histories and experiences of trauma," she explains.
"Different cultures can perceive trauma and understand mental health issues differently. It can also take time for trauma to be acknowledged and mental health issues to emerge as immediate settlement needs such as housing and employment are addressed."
Since the conflict between Ukraine and Russia began, more than 100 Ukrainian refugees have arrived in South Australia with more to come.
While the Commonwealth is working to fast-track these people into the Humanitarian Settlement Program, they will need the support of the South Australian Government and its people.
The support package is not just for new arrivals from Ukraine, but available to all new arrivals on temporary visas who are applying for asylum seeker status.
Page last updated : 19 Aug 2022