Contact us: +61 8 8226 8800
Start of main content.
Funding boost to support SA Grand-carers
2022-09-08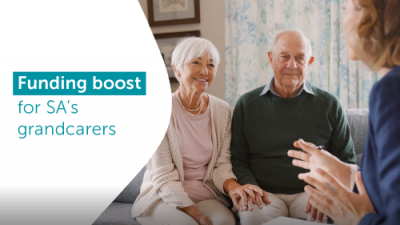 Grandparents who take on primary caregiver roles for their grandchildren and other young family members – often shouldering significant financial, legal and emotional strain – will have better access to personalised advice and support, thanks to a State Government funding commitment.
The South Australian Government is providing increased annual funding to $200,000 per year, indexed, to local non-profit Grandparents for Grandchildren SA (GFGSA) over the next eight years.
"I am extremely grateful that we have been provided with funding that ensures our continued ability to assist over 1,000 families connected to GFGSA," says Mike Feszczak, CEO of GFGSA.
The organisation runs several outreach 'villages'. These volunteer-run support and information groups, some situated in rural or remote areas, serve a vital role in reducing isolation for grandparents and kinship carers.
"This funding supports our plans to grow much-needed service delivery across the state, particularly the GFGSA villages where Grandcarers can seek help and advice to deal with the myriad of personal, financial, behavioural and legal issues they face whilst trying to keep children safe."
Grandparents For Grandchildren website
Page last updated : 28 Sep 2022