Contact us: +61 8 8226 8800
Start of main content.
A warm voice for Concessions drawing praise
2022-11-17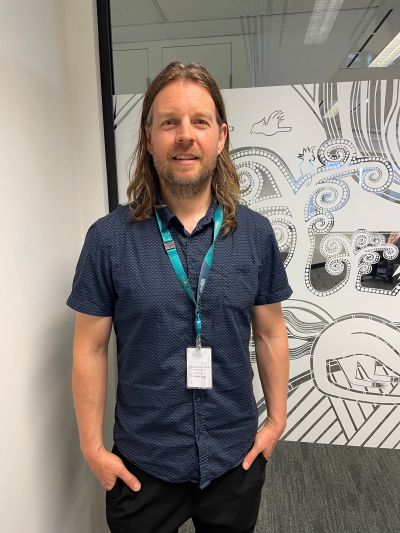 The Concessions hotline has never seen as much traffic as it had in the past few months. But it's not just the great customer service callers have received that is drawing comment. The recording callers listen to when they first ring up is getting rave reviews too.
Clinton Brice, Business Services Officer at Concessions, is the voice being praised for the clear, concise and warm messages on the Concessions hotline. He recently updated all its voice recordings, using his background in radio to do a thoroughly professional job.
One client commented: "I used to do voiceovers and recordings over the phone. This person's voice was steady, clear and really warm."
Clint is delighted with the wonderful feedback from Concessions customers and truly happy to be able to contribute to the team's work in such a different and creative way.
He worked in community radio for eight years before a restructure led him towards the Concessions team. Now, Clint loves to find innovative ways to have fun at work. That's why he relished the opportunity to dust off his voice-over skill set.
"I slightly tweaked some of the scripts. Using my experience in radio, I knew the messages would have to be accessible for people with special needs, or for whom English is not a first language. I read them in a way that was warm, and the language was easy to understand," says Clint.
The good feedback is also landing Clint some new gigs. He has recently been asked to do some recordings for Screenings Scripts on the new CXone phone system and had assisted DHS Business Technologies with some recordings for their phone scripts too.
Clint, from everyone in Concessions, thanks for the excellent teamwork and community spirit you are showing by lending your voice out to other areas of DHS!
Listen for yourself
Listen to Clint's voice recording for the Concessions hotline (34 secs)
Read the transcript
Thank you for calling the Concessions SA hotline.
We're receiving a very high number of calls. We apologise, but we're unable to take your call now as we're assisting other customers.
If you received the Cost of Living Concession last year, you'll receive the doubled payment this year and don't need to reapply.
If you applied for the Cost of Living Concession for the first time this year, by 1 July, you should also have received your payment.
All other applications are taking up to 6 weeks to process. We're currently assessing applications submitted in early October. We will contact you with the outcome.
Page last updated : 18 Nov 2022