Contact us: +61 8 8226 8800
Start of main content.
Tips for Inclusive Communication and Transgender Awareness Week
2022-11-14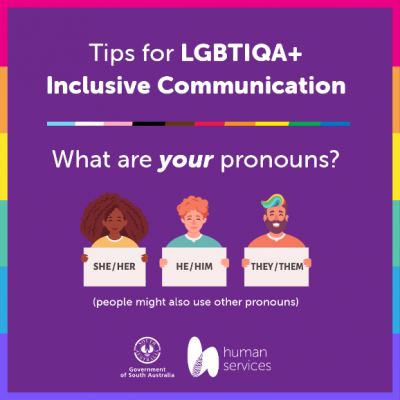 Transgender Awareness Week (November 13 – 19) is an opportunity to celebrate and stand with transgender and gender diverse people.
During this week and beyond, we aim to increase awareness of the discrimination and challenges people experience, just because their gender identity is different than the gender they were assigned at birth.
Everyone deserves to access services with the confidence that they will be respected and treated fairly and free from discrimination.
Providing inclusive services is a priority for the Department of Human Service, and that's why we have developed a factsheet to help our staff and the wider community to use LGBTIQA+ inclusive language.
We are the lead agency responsible for promoting inclusion across all South Australian Government agencies and the wider community.
When talking with someone it can be easy to make assumptions and address people using the incorrect gender, this is called misgendering.
This can be a common and deeply hurtful experience for transgender, gender diverse and non-binary people and can discourage them from seeking help from services.
Our factsheet helps to ensure a respectful and inclusive workplace, and provides tips to:
avoid misgendering
discuss gender identity
use pronouns correctly
use correct names.
View the LGBTIQA+ Inclusive Communication – Tips for service workers factsheet.
Page last updated : 14 Nov 2022