Contact us: +61 8 8226 8800
Start of main content.
CFSS Intensive Family Services
To address the needs of priority populations, DHS funds a range of home-based Intensive Family Services.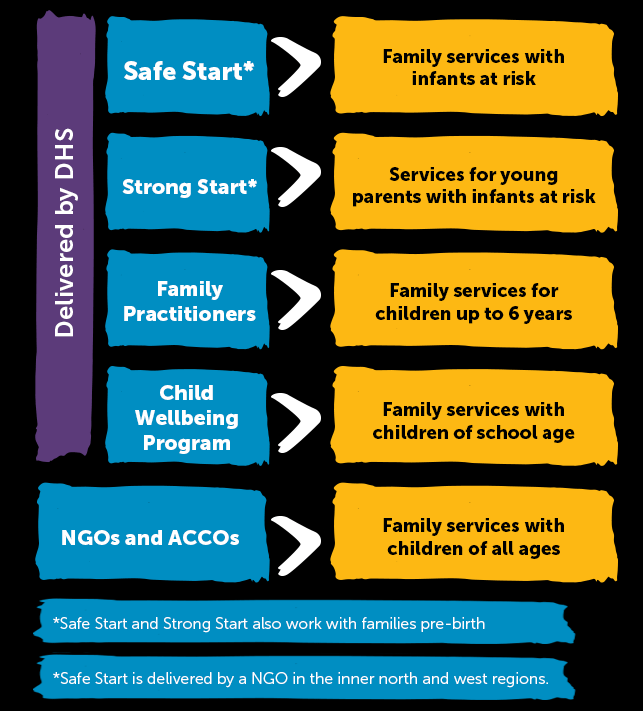 Plain text description of the diagram: Home-based Intensive Family Services
Intensive Family Services are specialist services for families with high level safety concerns. The team provides intensive case management to help families move out of (or away from) the child protection system. The aim is to keep families and children together. A team works with the family and other key partners to address risks, but also develop goals and strategies to strengthen family safety, wellbeing and functioning.
Intensive Family Services are provided by both government and non-government services, (including Aboriginal Community Controlled Organisations).
Intensive Family Services provided by DHS Safer Family Services programs include:
Safe Start (formerly CFARNs)
Safe Start refers to multiple agencies working together to support families at risk of having their infants placed in out-of-home care.
Safe Start work with families who:
are pregnant or have infants under two, and
have risk factors that place children at increased risk of harm.
Safe Start provides the first support to families. Other local agencies then take over to provide ongoing support.
DHS Safer Family Services delivers the Safe Start program in southern metropolitan Adelaide, northern metropolitan Adelaide, the Whyalla and Port Augusta region, and the Limestone Coast. Relationships Australia SA delivers Safe Start across inner northern and western metropolitan Adelaide.
The networks were established in response to the Nyland Royal Commission.
Strong Start program
The Strong Start program works with young, first-time mothers and their families who are experiencing complex issues. Ideally, Strong Start begins working with the parents during pregnancy. The aim is for the families to make a successful transition to parenting and ensure their children have the best possible start to life. Strong Start operates in two regions, North and South Metropolitan Adelaide.
Learn more about the Strong Start program
Family Practitioner program
Family Practitioners are based in the Department for Education children's centres across South Australia. They support high-risk families. They also support Children's Centres who have identified, and are responding to, child protection concerns.
Learn more about the Family Practitioner program
Child Wellbeing program
The Child Wellbeing program focusses on children in early childhood centres and public schools in South Australia. Specifically, the program improves the safety and wellbeing of children who are vulnerable or at risk.
Services may include:
direct case management with children and their families
educating staff so they can better respond to child protection risks
developing community connections in school environments.
Learn more about the Child Wellbeing program
Child and Family Safety Network
Child and Family Safety Network (CFSN) is a network that plays a critical role in the delivery of the CFSS. Child and Family Safety Networks are made up of key agency partners from Government, non-government organisations (NGOs), and Aboriginal Community Controlled Organisations (ACCOs), and work collaboratively as a mechanism to support partnership and multi-agency responses for the most at-risk children and families within South Australia.
CFSNs are operationalised as a shared approach to managing risk and ensuring that children's rights and safety are a sector-wide responsibility. This includes an emphasis on assertive engagement with the most vulnerable children and families in our communities, to improve the social, health, and wellbeing outcomes for infants, children, young people, and their families in South Australia. There are 17 CFSNs across South Australia.
Intensive Family Services funded by DHS, delivered by non-government organisations include:
Referrals to these programs are required and are ONLY accepted from:
the Department of Child Protection
the Department for Education (Child Wellbeing sites only)*
SA Health Birthing Hospitals (birthing units only).
Professionals in those organisations must follow their internal departmental procedures. *Referrals from the Department for Education should be made via Child Wellbeing Leaders or the School Principal.
Professionals outside these areas are encouraged to continue to make notifications to Child Abuse Report Line (CARL) and liaise with their relevant existing contacts for that family. Further information regarding services is available on Adults Supporting Kids (ASK) Professional Portal.
Page last updated : 04 Apr 2022