Contact us: +61 8 8226 8800
Start of main content.
How we change to become more trauma responsive
This diagram illustrates the process for implementing the Trauma Responsive System Framework.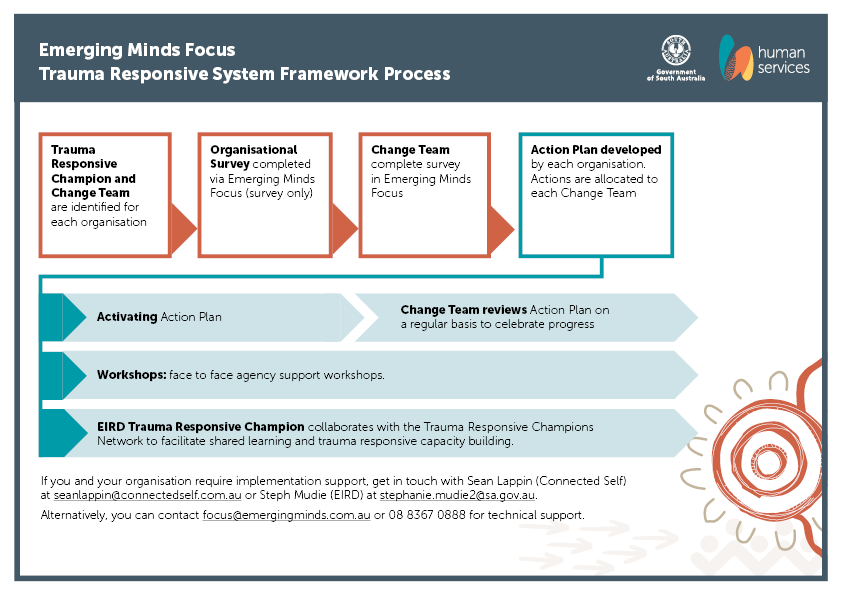 Focus process for print (PDF 81.9 KB)
Change Team
The change process will be led by your organisation's Change Team. This is a small group of staff with a commitment to trauma responsiveness and continuous improvement, endorsed by their organisation to support the process.
Each Change Team is has a project lead called a 'Facilitator', and is supported by a Trauma Responsive Champion.
Qualities of Change Team members
Passionate advocates within their local service for trauma responsive initiatives. They want to see systems that uphold kindness, honesty, and support all involved.
Keen to contribute their knowledge and experience to help shape and develop trauma-responsive practice.
Effective communicators, creative and trustworthy, establishing a safe environment where all members can speak honestly.
Ready to contribute shared learnings at the Trauma Responsive Champions Network, a DHS-facilitated network of organisational representatives that meets regularly to support a more trauma-responsive system.
Trauma Responsive Champion
A Trauma Responsive Champion is appointed by your organisation. Each Champion is connected to the Trauma Responsive Champions Network. DHS coordinates and supports regular meetings of the Champions Network.
Organisational Surveys
Focus uses results from two surveys to measure your organisation's level of trauma responsiveness, to guide your organisation's Action Plan and to capture your organisation's process on the Trauma Responsive System Framework:
A survey sent to all relevant staff in your organisation
A survey completed by your Change Team.
Both surveys must be populated to analyse your results and progress to the next stage.
Developing an Action Plan
Focus supports the Change Team to develop a customised Trauma Responsive Action Plan guided by the survey responses. The Action Plan identifies areas of trauma responsiveness that are on track, and those requiring future development.
Focus will provide links to relevant resources to encourage deeper reflection amongst the Change Team to compliment their work.
Enacting 'Our Healing Approach' — Priority 2
Focus will support the Child and Family Support System (CFSS) in enacting the key initiatives from 'Our Healing Approach' – Priority 2:
Focus will support a whole-of-system approach as organisations engage with these initiatives. It will identify areas where actions from one initiative contribute to another.
Page last updated : 06 Oct 2022